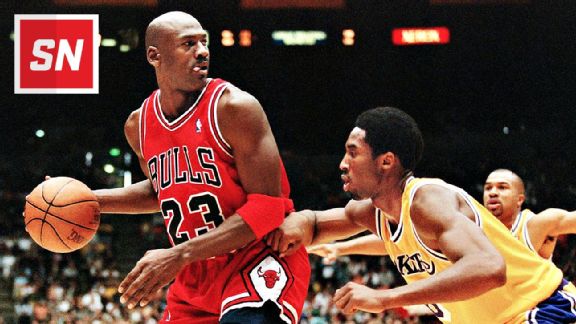 Vince Bucci/AFP/Getty Images
In his 20 NBA seasons, Kobe Bryant has faced a number of brilliant players: vets near the end of their careers, such as Karl Malone and John Stockton; fellow stars who entered the league around his time, such as Tim Duncan and Kevin Garnett; newer standouts such as Dwyane Wade and Stephen Curry.
None of those made his top five "toughest players to face" list. As relayed by our own Baxter Holmes, here it is:
Top five players Kobe says he has faced: Olajuwon, MJ, Kevin Durant, LeBron James, Clyde Drexler. Adds that it's hard to pick just five.

— Baxter Holmes (@BaxterHolmes) December 21, 2015
Michael Jordan? No surprise. LeBron James? Not really either. Kevin Durant? When he's healthy, he's electric. And Hakeem Olajuwon? There's a reason they call him The Dream. The biggest surprise, perhaps, is Clyde Drexler -- but no one is about to claim he wasn't great.
The key point is the second thing Bryant told Holmes: It is hard to choose a top five from 1996 to 2015.