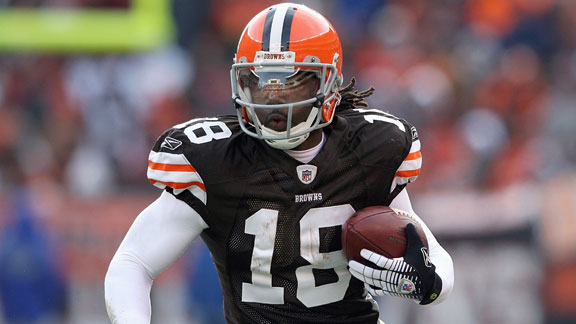 In a letter to Donte' Stallworth explaining why he was suspending the receiver indefinitely following a guilty plea for DUI manslaughter, NFL commissioner Roger Goodell wrote there could be "no reasonable dispute that your continued eligibility for participation at this time would undermine the integrity and public confidence in our league."
SportsNation seems to agree, although there's enough of a split to suggest at least some reasonable dispute. In fact, better than one out of four voters say it wouldn't undermine the league's integrity or their confidence in the league if he was on the field as soon as Week 1 after serving his 30-day prison sentence.
That said, perhaps as a result of the commissioner's established pattern of justice for players like Adam Jones and Michael Vick, only 23 percent of voters expect Stallworth to play in the league at all this season.
"

the only part I dont like about this, is, Goodell's indefinate suspension, there really is no guideline here so it's like we got some hanging judge from the old west playing commisioner. I'm not defending stallworth or anything, I just dont like the commish and his antics, there needs to be guidlines set and when you get into trouble , you can expect X to happen, not this random BS.

"

-- sbdawg123
"

The NFL or more precisely Roger Goodell should not be the one passing judgement on Donte' Stallworth. The judicial system had its time to make the appropriate decision. During the entire process Stallworth was cooperative and showed class in a real mess of a situation. Let's not forget that the guy he hit was running across the highway ok, not a crosswalk. Stallworth has literally "paid" for this and he's doing the time in jail. Why Roger Goodell feels he needs to add his own brand of justice is beyond me. As if Stallworth hasn't had enough to deal with now he's suspended indefinitely without pay. I guess next Goodell will say that he'll let Stallworth come back in a year if he shows "genuine remorse'. At this point I'm beginning to become much less of a fan of Roger Goodell.

"

-- crunchtime89