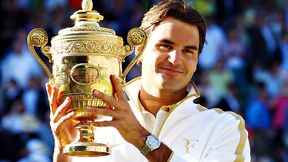 Before the Wimbledon final began, Andy Roddick had already lost. Or so thought almost 70 percent of SportsNation, and we assume Pete Sampras (a 12-hour flight to watch just one match? That's some serious Federer faith).
Fast-forward about four hours, 456,789 tiebreaks and the match was at a 14-14 deadlock in the fifth set. At times, it even looked like this might finally be Andy Roddick's moment. But then, as if the tennis gods woke up and said, "Roddick might win Wimbledon? Wait, this isn't right. Something must be done," Federer broke Roddick's serve for the first time and won his 15th Grand Slam title.
After all was said and done, do you think Wimbledon '09 was the best you've ever seen? Does it top '08's Federer-Nadal battle? Ravi Ubha says no. But what does SportsNation think? Vote and discuss below.
"

Congrats to both players; what a match! It is sad Roddick had to lose, because he played well enough to win. But that's what makes Federer so good. Fantastic stuff.

"

-- redsoxer
"

Andy should be proud the way he played Sunday and for the entire tourney. He just keeps running into the greatest of all time.

"

-- 8underpar64