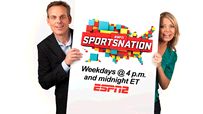 At the end of the "SportsNation" TV show on Monday, Colin Cowherd told co-host Michelle Beadle the debut took so much energy he didn't know if he could do it again.
Guess who's back?
Check out the big stories of the day, cast your votes and watch on ESPN2 at 4 p.m. ET!.
If you had $900 million to spend, would you buy the Cubs?
The family of TD Ameritrade founder Joe Ricketts reportedly has a deal to buy the team and Wrigley from the Tribune Co. for $900 million.

Where will LeBron James play after 2009-10?
LeBron told Trevor Ariza he'd be in Cleveland after next season. Or he didn't. NBA free agency is a game of intrigue and rumors.
Awesome or weird?
What do you think of Ron Artest reportedly going to find Kobe Bryant in the shower to tell him he could help the Lakers?
Should the 76ers try to sign Allen Iverson?
A.I. averaged more than 30 points a game in four of his 10 full seasons in Philadelphia. His average has dropped, but he can still score.

Would you partake in the Running of the Bulls in Pamplona?
Thousands of people risk goring and trampling each year in Spain. Are you interested in a road trip?
And our final question ....
Mark Teixeira and Kevin Youkilis carry a built-in rivalry to the lineup card that will be filled out by Joe Maddon, manager of the third AL East team of note.
What is "SportsNation" TV and how do you make your voice heard on the broadcast? Read about the new ESPN show that features fan opinions with calls, tweets, polls, rankers and more.