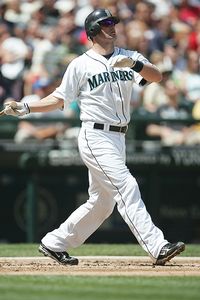 The All-Star Game offers a chance to stop and survery the landscape (actually, considering how little else is going on in sports, it doesn't so much offer as demand it). We'll start today with the AL West, mostly because nobody ever starts with the AL West.
With the exception of the good people in the state of Washington, SportsNation doesn't rate the AL West race all that highly. But a photo finish between three really slow runners is still a photo finish, and the Angels, Rangers and Mariners are within a few games of each other -- and .500 -- at the season's midway point.
In the heady days of early May, SportsNation gave the Mariners a better chance to stay in first place than fellow Cinderella hopefuls the Tigers or Royals. But two months later, with the team still winning, voters are undecided when it comes to selling off potentially valuable pieces like Erik Bedard and Jarrod Washburn or buying replacements for injured contributors like Adrian Beltre and Endy Chavez.
"

Langerhans and Woodward are amazing.....to come into this team on that road trip and now contribute like they have....that is awesome. OUR GM is a friggin genius!

"

-- Mariner377
"

The Angels will be battling the Rangers until the heat/humidity gets to Texas in August. If the Rangers manage to weather that month, then yes...these games mean a lot. Otherwise, there is still half a season to play and anything could happen.

"

-- southbaybeachboy
"

If [Justin] Smoak is what everyone says he is, I would make [Chris] Davis the main chip in a trade for pitching. Yet will all the money issues i'm in doubt, like many here, that anything will be done.

"

-- Elykm85
"

1. The [A's] throw away Dan Haren, a CHEAP, YOUNG, UNDER CONTRACT superstar for minor league scrubs. 2. They throw away Rich Harden for minor league scrubs when they were in a AL West race three games out. 3. They get rid of half of the minor league scrubs gotten from the Haren trade and Huston Street for a half year rental Matt Holliday. 4. They trade three more minor league pitchers for Scott Hairston. Are they rebuilding? Or trying to win this year? Which is it? STOP autonerfing yourselves to oblivion, A's, you've really destroyed the team on purpose, Beane.

"

-- TrueNiners