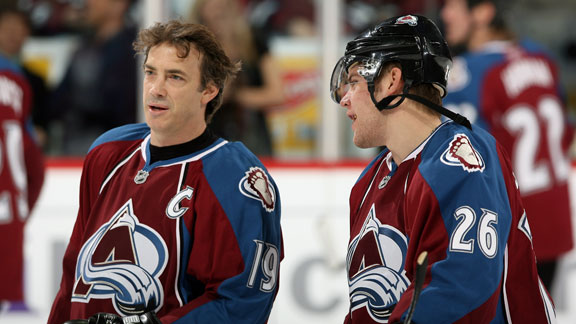 Apparently it's Canada Day, albeit a week late, in SportsNation today.
Joe Sakic was pretty much the prototypical hockey star during his two decades in the NHL, which is probably why news of his retirement is getting such little attention south of the hockey border. After all, when Chad Ochocinco talks tweeting or Manny Ramirez gets ejected, why bother with Sakic? Maybe if he waited a few months and started dropping hints about a comeback with the Minnesota Wild ...
Sakic might not have been as much the face of a franchise as Jaromir Jagr or Steve Yzerman during the same era, but as some of the comments below suggest, even Red Wings fans liked the guy. And that's not something you hear a lot of Duke fans saying about Tyler Hansbrough or Colts fans saying about Tom Brady.
"

One less wicked wrister in the NHL today. Hate the Avs, loved Joe Sakic. Thanks for the memories Joe. I will never forget a night against the Sharks when Joe had the puck in the corner, skated back and forth with the puck glued to his stick so quickly that he lost 3 defenders then fired a laser into the top far corner to score an eventual game winner. Absolutely ridiculous. Congrats Joe on a great career, 1st ballot HOF, number retired 1st game of next season if the Avs are smart.

"

-- DiabloLucky13
"

awww Joe!! Burnaby Joe, as we liked to call him here in his hometown..:) nothing but huge respect for the man as a player and as a person, pure class alll the way.. we even named a street after him years ago, lol. hope Denver does the same!

"

-- 1_canuckgrl
"

Joe Sakic was a great player, leader, and sportsman. My other favorite number 19. Sad to see him go, but glad that it's on his own terms. Next stop, HOF. Thanks letting us watch you play the game Joe!

"

-- YzerWingsFan19
"

As a Wings fan, I have a huge dislike for the Avs, but I could never bring myself to dislike Joe. Congrats on a great career and thanks for making the Wings/Avs rivalry so great.

"

-- squigs24