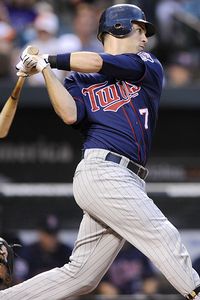 That Joe Mauer cuts such a dashing figure that we had to get to the AL Central after yesterday's AL West incursion. Bonus points if you can guess what comes tomorrow.
Anyway, few questions have divided the 'Nation quite like the fate of the AL Central. All right, so people outside Chicago, Cleveland, Detroit, Kansas City and Minneapolis-St. Paul aren't necessarily passionately divided on the question, but they are divided nonetheless.
As a division, it's sort of like picking a checkout aisle at the grocery store on the night before Thanksgiving.
In the days before the season began, the Indians, Tigers, Twins and White Sox were all getting roughly the same amount of support to win the division. And by April 20, Royals supporters were flying high, so to speak, to make it a five-way race.
"

I agree that the sox need another arm, not just to compete for the division, but for the playoffs also. Id cut contreras out of the rotation entirely in the post season. 4 man w/ whoever KW can find to plug that 4th hole.

"

-- weinertime
"

Do you think the Tribe would take the same deal for Lee that SD wanted to take for Peavy? Richard and Poreda plus 2 pitching prospects to be named later? Richard has some good stuff (as is evident by how good he is the first time through the order, he just needs some fine tuning and I don't think he'll solve it this season) and Poreda has a lot of potential. Plus, Cleveland could use all the young talented arms they could get.

"

-- morganator316
"

I tried to keep the faith in Ordonez as long as possible but he just cont. to look bad......... real bad! I wonder how long Leyland is going to rotate Kelly and Thomas in and out of AAA Toledo before settling on one to head down the stretch. I guess anything can happen IF and or WHEN they make a more final decision on Mags.

"

-- KaneBowman
"

I've tried to remain positive, but I can't hold back anymore. It's time for Dayton Moore to go. Schoddy trades, head scratcher draft strategy, horrible free agent contracts (this off season), and now the cream of the crop TPJ still on the team. Hernandez is no great shakes, but he is a completely better ball player then TPJ. Fire DM now.

"

-- BairdHater1
"

I am thrilled with Joe Crede. The teams of the past would strand 7 or 8 singles per game but this guy every 15 or so at bats hits a canon shot over the fence and that puts runs on the board. Plus just the routine plays he makes is such an upgrade over Brian Buscher. He is not our problem. Our problem is getting Nick Punto out of the starting lineup. Freddy Sanchez would be great. Punto still has great value as a utility player as his defense is superb at multiple positions. And give him credit he does draw some walks but his bat is horrible.

"

-- miraclemauer