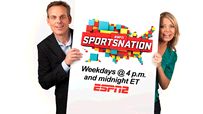 If Michelle Beadle is wearing the yellow jersey after two days of "SportsNation" TV, co-host Colin Cowherd is second by only tenths of a second.
The race is on to your answers about the the biggest stories of the day.
Check out the show topics, cast your votes and watch on ESPN2 at 4 p.m. ET!.
Will Ron Artest win a championship with the Lakers?
If Phil Jackson could handle Dennis Rodman, Ron Artest should be no problem. But what if the newest Lakers star is not as good as Trevor Ariza?
Do teams like Utah have a fair shot at the BCS title game?
Complaints and congressional hearings abound for the college football postseason, but what about beefing up the schedule?

Would you rather watch LeBron dunking or being dunked on?
Let's go to the tape to see Xavier University sophomore Jordan Crawford dunking on LeBron James. Wait, maybe not. Nike reportedly confiscated the footage.
Would you donate $100 to your team's Roy Halladay fund?
There are plenty of pitching-hungry fans out there (just listen to the screaming by Mets followers). Time to break out the checkbooks.

Is second place a failure for Lance Armstrong?
It's obvious after the first few days of the Tour de France that Lance isn't conceding the race to teammate Alberto Contador or any other cyclist.
What is "SportsNation" TV and how do you make your voice heard on the broadcast? Read about the new ESPN show that features fan opinions with calls, tweets, polls, rankers and more.