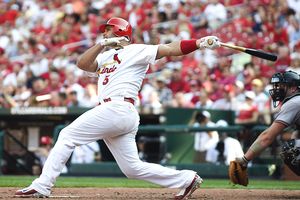 It's Nelson Cruz, Brandon Inge, Adrian Gonzalez and the greatest show in sports! All right, so part of the lineup for this year's Home Run Derby has almost as much star power as a Syfy Channel original movie (although on the plus side, much, much better special effects). But as long as guys like Prince Fielder and Ryan Howard are around, the field isn't completely barren beyond hometown hero Albert Pujols.
In fact, more people are picking someone else to win the Home Run Derby than are picking someone other than Tiger Woods to win the British Open.
And like the NBA's dunk contest, minus the props, it's the fun of the moment that makes the event. If you can name the last five winners of the event, you may have an unhealthy obsession with Miguel Tejada. It's all about hitting a lot of balls a long way. And as long as somebody challenges Pujols, and Carlos Pena doesn't try to draw a walk, we'll be fine.
"

I have to admit, I'm actually very excited to see what Joe Mauer does. Save for Ken Griffey Jr. ,I'm not sure there's a better looking swing in all of baseball. I don't think he'll win (not with those guys on the NL roster), but I think he'll do better than most might think for a "non-power hitter."

"

-- rodeojones000
"

So Awsome to see Inge getting whats been due to him for years. I hope he takes the whole thing.

"

-- AjP_