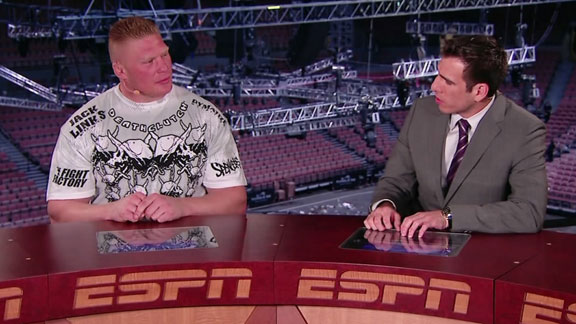 First the good news for UFC. More than half of SportsNation knows Georges St. Pierre is, in fact, a mixed martial arts fighter who fought in UFC 100 Saturday night. Voters had until recently said hockey had a brighter professional future in the United States than mixed martial arts, but St. Pierre's name recognition is a good bit better than John Tavares' was in the hours before he became the No. 1 pick in the NHL draft.
Now the not-so-good news. SportsNation isn't sure what to make of Brock Lesnar in what should be the heavyweight's moment of glory. Lesnar retained the heavyweight crown by beating -- and then taunting, WWE style -- rival Frank Mir.
Lesnar's antics drew a rebuke from UFC president Dana White, but SportsNation blogger thechris54 thinks anyone worrying about sportsmanship should just get over it. So does this help or hurt UFC gain mainstream eyeballs?
"

Dana White is the right guy to get things started, but they need to shut him up because MMA is a real sport; unlike WWE. Boxing learned it's lesson with Don King.

"

-- njhaines
"

Lesnar showed respect to Randy when they fought, but he doesn't show respect to people who don't respect him.

"

-- cubs_win78