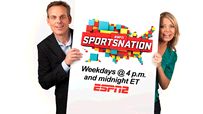 "SportsNation" TV is back and swinging for the fences in Week 2.
Share your thoughts and vote on the biggest stories of the day. Michelle Beadle and Colin Cowherd will hit on these and other topics during the show on ESPN2 at 4 p.m. ET.

Should the NFL add tracking to footballs?
Redskins TE Chris Cooley suggests that the NFL could end controversy on goal-line plays and first downs by using technology such as GPS.

Should MLB All-Star starters play the majority of the game?
The game determines World Series home-field advantage, but fans of every team would like to see their representatives play. What's an All-Star manager to do?

Do Brock Lesnar's antics help or hurt UFC?
Last week SportsNation was split about whether it wanted to see more MMA on the show. Now the discussion is about big mouths as much as big fights.
How much would Pedro Martinez help the Phillies?
The 37-year-old righty threw twice last week for team representatives and could join the Mets' rivals any day, pending a physical.

Could you hit a HR with an aluminum bat in the Home Run Derby?
We all know what Albert Pujols, Ryan Howard and Prince Fielder can do with a bat. What kind of swing does SportsNation have?
What is "SportsNation" TV and how do you make your voice heard on the broadcast? Read about the new ESPN show that features fan opinions with calls, tweets, polls, rankers and more.