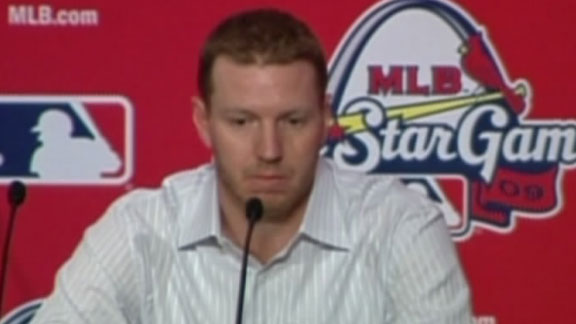 All-Stars are relaxing in St. Louis. Non-All-Stars are relaxing with their families/friends/agents. The only people in baseball who aren't on break are those who work in the front offices. We don't know if you've been paying attention or not, but the Theo Epsteins and Kenny Williamses of the world have been a bit ... busy.
The main prize is Toronto Blue Jays hurler Roy Halladay, whose
Cy Young candidacy and trade potential
we discussed less than a week ago. Halladay is on the record as wanting to go to either the National League or a contending team. For all his excellence, Halladay has
never pitched in the postseason
. Staying in Toronto gives him little chance to change that, as the AL East changes from a two-team duel to a three-team melee. He could definitely help a contending team -- 80 percent of SportsNation expects him to win
20 or more games
, and he came in second place in our
midseason Cy Young ranker
. Doc Halladay's not the only gunslinger on the market, however. The long-dormant Pedro Martinez could be a factor if the Phillies decide to sign him. Martinez was the author of one of the
greatest pitching seasons ever
, but that was nine years and many injuries ago. SportsNation thinks he'll help the Phillies a
little bit
, but is he just a fifth starter, or something more? With Pedro, you really do never know.
"

You guys are crazy to suggest that Halladay will go to the Yankees. The reason Toronto would trade him would be to get some pieces to make them more capable of competing in the AL East in the future. Sending Halladay to the Yankees (or Boston) would make it even more difficult than it already is for them to be competitive. In fact, I highly doubt they'll send him to any American League team. Either he's going to Philly or he's staying in Toronto. He's not going to the Cubs (he wants to win, remember) or to St. Louis or LA. Philly has the pieces to match any offer another team makes and they will not allow Halladay to go to a team they'll possibly be facing in October.

"

-- rodeojones000
"

Does anyone else think Halladay was dropping a hint that he wants to play for the Yankees when he said "I'd rather have to hit than face Jeter, Matsui, Arod, Teixeira" - maybe I'm reading too much into his quote but it's noteworthy that he named 4 Yankees that he doesn't want to face anymore instead of saying something like "Pena, Youkilis, Bay, and A-rod"

"

-- Rmack1115
"

they might a s well get brett favre to pitch for them.he would probably be just as effective.pedro is DONE.why cant these people see that?

"

-- nspe33