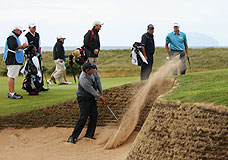 Whether you call it the Open Championship, the British Open, or the thing with all the gorse, the oldest major in golf is back. And so is the man who may eventually hold more major titles than anyone since the first Scot grabbed a niblick and knocked his feathery stiff (that last sentence was actually suitable for family consumption, believe it or not).
Tiger Woods is back after a year's injury-induced hiatus from the British Open, and the tournament is back at Turnberry in Scotland for the first time since before he turned pro.
Not surprisingly, Woods is SportsNation's favorite against the field, although the close call in voting is more evidence we're not convinced he's as good as ever after knee surgery.
But Woods is not the only new face at the top of the expectations leaderboard. SportsNation's top five for last year's tournament went as follows: Sergio Garcia, Phil Mickelson, Ernie Els, Adam Scott and Jim Furyk. Mickelson is absent for family reasons, but of the other four, only Furyk remains in the 'Nation's early top five this year.
"

I have a hard time calling [Tiger's first-round playing partner] Ishi a "phenom." He's been nothing exciting on the PGA Tour ... Winning on the Japan Tour is nice, but it's still the Japan Tour. I wish it was Tiger, Paul Casey, and Rory Mcilroy ... That'd be an exciting group. With this grouping ... I see Westwood shooting average rounds, Ryo missing the cut, and Tiger playing great.

"

-- JETsrunway
"

[Wojciechowski's] article describes how I feel about the Open. The history, the quirkiness, the weather ... it the ultimate experience for a golf nut like myself. I look forward to the day when I can see the Open Championship in person.

"

-- RoMizzou