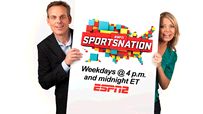 "SportsNation" TV's performance today won't determine home field for any playoff series, but Michelle Beadle and Colin Cowherd will run out every grounder and play as hard as they can, anyway.
Share your thoughts, vote on the biggest stories of the day and chat during the show on ESPN2 at 4 p.m. ET.

Whom did Jessica Simpson distract more?
Cowboys QB Tony Romo reportedly split with Simpson, with whom he vacationed in Mexico, during the bye week before the playoffs in January 2008.

Was Blake Griffin's Vegas performance a big deal?
The top draft pick, and latest Clippers chosen one, scored 27 points and grabbed 12 rebounds in his summer league debut Monday.

Would you throw a strike on a ceremonial first pitch?
President Obama, like Presidents Bush and Nixon before him, will toss out the first pitch at the All-Star Game in St. Louis.
Would Allen Iverson help or hurt the Clippers?
A.I. could be playing in Los Angeles next season, but first the team wants to know whether he'd be willing to come off the bench.

Would you watch more than one Home Run Derby event per year?
Prince Fielder won this year's Derby, but a one-night contest hardly settles who is the best home run hitter in baseball.

And our final question ...
Alex Rodriguez, slowed this season by a hip injury and various off-field scandals, is hitting only .256 with 17 home runs at the All-Star break.
What is "SportsNation" TV and how do you make your voice heard on the broadcast? Read about the new ESPN show that features fan opinions with calls, tweets, polls, rankers and more.