Fans in Kansas City were a tad steamed that Zack Greinke didn't get the start for the American League in the All-Star Game. But at slightly less than $4 million this season, the Royals' ace would have been a bargain in that role. By contrast, the Chiefs are paying Matt Cassel like they expect him to make more than a few Pro Bowl starts for the AFC.
Getting Cassel from the Patriots didn't cost the Chiefs much, but keeping him in the fold for the next six seasons will cost more than $60 million after the deal the quarterback signed Tuesday. Does Pete Carroll get a cut of that for resting his arm at USC?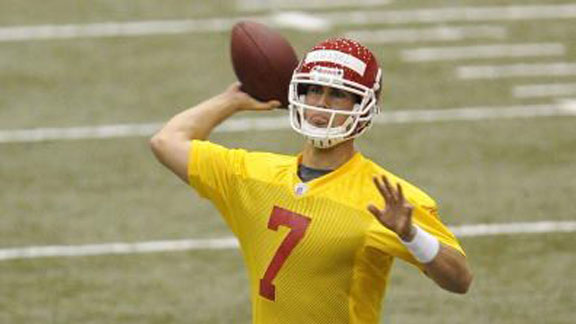 What those with actual knowledge are saying:
ESPN.com's John Clayton: "Philip Rivers and Eli Manning are in the final years of their contracts. If they get long-term deals, the price of signing quarterbacks goes that much higher. The time was right to do a deal. This was an important negotiation for the team, and the Chiefs did well."
NFL.com's Steve Wyche: "K.C.'s trade of Tony Gonzalez left Haley and Cassel with Dwayne Bowe, an emerging stud, and Bobby Engram, a veteran who isn't Randy Moss or Larry Fitzgerald. The lack of options could be more of an indicator of Cassel's 2009 season than his overall skills and his ability to grasp [Todd] Haley's offense."
"

that's a lot of money/time to invest in a kid after seeing him start only one year in belicheat's system with moss and welker to throw to

"

-- PhillyNovaNation
"

Cassel will have the pressure but not the experience. He did well in New England knowing he just had to do OK, they didn't expect him to take over games. Now he is being paid to carry the team. He has never done that.

"

-- DDPPRR69