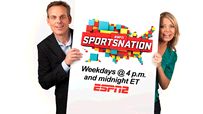 "SportsNation" TV plans to use every pitcher on the staff today, including All-Star hosts Michelle Beadle and Colin Cowherd.
Share your pitches, swing at the knuckleball ideas, vote on the biggest stories of the day and chat during the show on ESPN2 at 4 p.m. ET.

With the proper training, could Shaq beat Brock Lesnar?
We're not asking whether Shaq would survive 30 seconds, like 26 percent of you said you could do yesterday. Could the big guy actually beat the UFC champ?

What do you think about the broadcast of President Obama's first pitch?
It didn't make the pitch look any faster or higher off the ground, but the odd angle did cause some watching the All-Star Game to cry conspiracy.

Would you play in Greece if you could make twice as much money?
Knicks guard Nate Robinson reportedly has a two-year offer from Olympiakos, the team that lured Josh Childress to Athens.

Does seeing your team's players having fun with rivals bother you?
Fans demonstrate daily how much they hate rival teams and fans. And then come the All-Star games, during which the guys are buddy-buddy.
Is Randy Moss responsible for Matt Cassel's success?
The Chiefs are going to pay their new quarterback more than $60 million over six years, expecting him to be more than a one-season wonder.

And our final question …
An 11-3 record wasn't enough to get the 42-year-old knuckleballer into the game, even though his first All-Star appearance might also be his last. Should he have gotten a chance?
What is "SportsNation" TV and how do you make your voice heard on the broadcast? Read about the new ESPN show that features fan opinions with calls, tweets, polls, rankers and more.