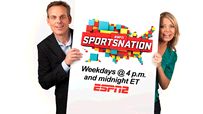 Michelle Beadle and Colin Cowherd have been cleared to play and are in the starting lineup today on "SportsNation" TV.
Discuss the hot topics, vote on the biggest stories of the day and chat during the show on ESPN2 at 4 p.m. ET. And if you miss that, there's a second helping of "SportsNation" at 5 p.m. ET on ESPN.
Should the Patriots pursue Michael Vick?
New England has a system and has a good track record of taking in troubled players who have made surprisingly few waves once in the fold.
Do the Phillies need to upgrade by adding Roy Halladay?
The rest of the National League East is fading fast, but Peter Gammons argues Philly could write in several years of championships by adding the pitcher.

Where do you stand on instant replay in baseball?
Michael Cuddyer sure looked safe in the replay, but instead of tying the game, he was called out at home last night in Oakland.
Who is the better player?
Manny Ramirez and Mickey Mantle both put up incredible offensive stats on some of the best teams in baseball in their given eras.

Is Chris Henry on the verge of a Randy Moss-type career?
Carson Palmer believes in second acts, and he says his wayward Bengals teammate is poised to provide some noncontroversial offense in Cleveland.
What is "SportsNation" TV and how do you make your voice heard on the broadcast? Read about the new ESPN show that features fan opinions with calls, tweets, polls, rankers and more.