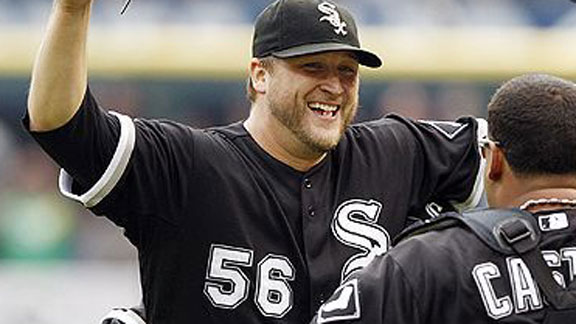 Jim Parque sure picked a good day to come out as a disgraced former White Sox pitcher.
A day that began in Chicago with the White Sox answering questions about a guy most of them never played with (and who said his use of performance-enhancing drugs came after leaving the team) ended with one of his few remaining former teammates forcing a much more pleasant revision to the game's record books. Mark Buehrle's perfect game was just the second of this century and No. 18 all time (counting Don Larsen's World Series gem).
Yes, there have been more Arena Bowls in our sporting history than perfect games.
Of course, as rarely as perfect games come along, they're New York City cabs compared to catches that top Willie Mays' over-the-shoulder grab in the 1954 World Series. Dewayne Wise gave it his best shot Thursday, leaping high and extending an arm over the fence to preserve Buehrle's perfection in the ninth inning. but SportsNation rules it wasn't good enough to unseat the Say Hey Kid.
"

If this kid can, hopefully, avoid significant injury and gets to the 300 win mark with, at least, one no hitter, perfect game, and WS championship on his resume, he'll be a first ballot Hall of Famer. For sure.

"

-- IlliniDave68
"

Alright, I'll admit it. When I saw Mark Buehrle get the last out of the game, I actually got on my feet and started cheering. I may not have been happy that it was against my team, but he pitched one Hell of a game. And for that, I tip my hat to him for giving me a moment in history that I might be able to share with my kids someday.

"

-- UPS Wyatt
"

Don't forget that Buehrle's NO NO in 07' was one fifth inning walk away from being a perfect game. He walked Sammy Sosa, but later picked him off. He faced the minimum 27 batters in that game as well. Unreal. This guy is Legit! And to do it against the defending AL champs...WOW.

"

-- greateromaha
"

I'm still trying to think of a way that catch could have been any more amazing... maybe if he'd grabbed some fan's beer with his teeth, drank it using no hands, and belched "Take Me Out To The Ballgame" as he made the play. That's about all I can come up with

"

-- GoWIndyCity