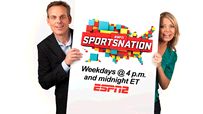 Michelle Beadle and Colin Cowherd don't have to add a day to "SportsNation" TV because they're already on five days a week.
Discuss the hot topics, vote on the biggest stories of the day and chat during the show on ESPN at 5 p.m. ET.
How would you feel about a four-game suspension for Michael Vick?
Commissioner Roger Goodell is expected to announce next weeks whether the ex-Falcons quarterback will be reinstated to the NFL.

What do you think about the NFL moving the first round of the draft?
People have turned one spring Saturday a year into the celebration of players full of potential but untested by NFL competition. Can Thursday night be as good?
What do you think of a reporter asking Tim Tebow about his celibacy?
Are there some things we'd just rather not know about our college superstars? Or is almost any off-the-field behavior now a matter of fan interest?

Is Ozzie Guillen a better manager than he gets credit for?
Sure, he didn't throw the no-hitter Thursday, but he's been not-so-quietly running the show as it has improved on the Southside for years.

Do you believe Steve Spurrier not voting for Tim Tebow was an oversight?
The Ol' Ball Coach is not above speaking his mind or playing mind games, but voting Jevan Snead as the All-SEC preseason QB was a mistake, he says.
What is "SportsNation" TV and how do you make your voice heard on the broadcast? Read about the new ESPN show that features fan opinions with calls, tweets, polls, rankers and more.