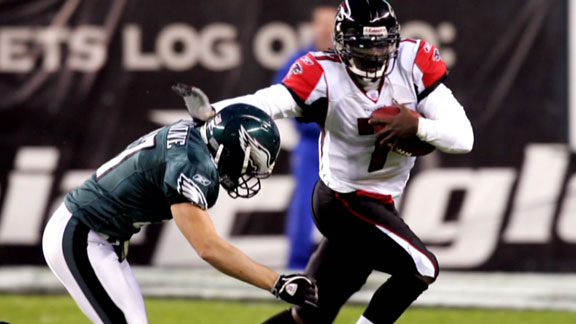 Having seen what SportsNation thinks of Michael Vick's present and conditional future (apologies if you suddenly feel compelled to start diagramming sentences), what about his past? Or more specifically, what about what we thought about him in the past?
We take you back to a simpler time. A time when the Dow Jones looked more like John Stockton's career assists than Freeman McNeil's career rushing yards. A time when Brett Favre contemplating retirement deep into the summer months actually seemed sort of novel. We take you back to the late summer of 2007, when Vick reached a plea agreement with federal authorities and voters were not inclined toward any form of leniency when it came to the embattled Falcons quarterback.
Of course, all of that came at the end of a long summer of Vick news. The house Vick owned in Virginia was raided in late April, leading to his initial claims of innocence and an infamous meeting with Goodell in which he lied about his involvement -- something which Goodell said Vick apologized for when the two met last week. A month after the raid, in May 2007, SportsNation didn't seem to envision the story we're talking about two years later.
"

Now let's see how many NFL teams beat down his door to sign him. After Jerry Jones and Al Davis both went on record as saying " no interest what so ever, none ", that should be pretty clear. If those two don't want him, can you spell UFL??

"

-- THEBOOTGUY
"

Any team that takes Vick will be the most hated team in the league. Nuff said.

"

-- whojoho71
"

Im glad its over and he can work out and sign with a team..welcome back mike..I will be the first to buy his jersey because he was one of my favorite players in the league...

"

-- lucky luchiano