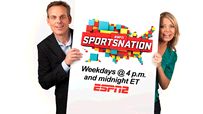 Michelle Beadle and Colin Cowherd are better than two grand slams in the same inning. Check them out on "SportsNation" TV.
Ignore the pitch counts, discuss the hot topics, vote on the biggest stories of the day and chat during the show on ESPN2 at 4 p.m. ET.

What are your thoughts on public displays of affection?
Kate Hudson and Alex Rodriguez went public with their romance this weekend. And there are all those happy couples and proposals in the stands.
Does being rated the nation's No. 1 party school help or hurt recruiting?
Penn State is at the top of the list this year. Who doesn't want to have fun at college? What's this talk of going to class and practice, anyway?
If you went to jail for two years would your job welcome you back?
Roger Goodell is giving Michael Vick a chance, if any team will sign him. Would the bosses where you work be as accommodating?
Is trash talking among athletes good or bad for sports?
Alberto Contador has nothing nice to say about Lance Armstrong. Good thing they'll be racing on different teams next year in the Tour de France.
Should Shaq be allowed to do whatever he wants?
The big guy is everywhere: Twitter, TV, Cleveland. Besides being a basketball behemoth, he's also a cultural colossus.
What is "SportsNation" TV, and how do you make your voice heard? Read about the new ESPN show that features fan opinions with calls, tweets, polls, rankers and more.