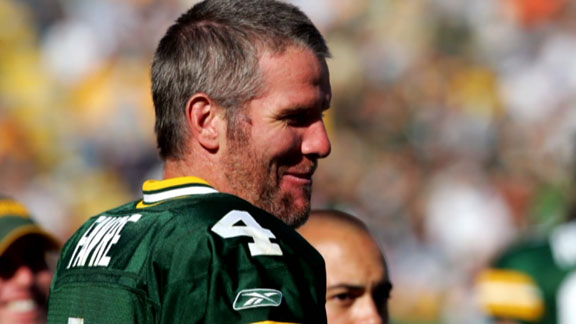 Back at the time of the first installment of Brett Favre's retirement saga (the one where he meets Hagrid and escapes from the room Ted Thompson locked him in), SportsNation ranked him second on the list of all-time quarterbacks, a good distance behind Joe Montana but well ahead of Dan Marino, John Elway, Tom Brady and presumably Don Majkowski.
Then Favre decided to star in a sequel with the Jets, and we looked on uncomfortably as he played a part he seemed way too old to pull off. That was followed by another retirement, and we all rolled our eyes and tried to fend off the nausea of another summer of inevitable comeback rumors. The novelty of Favre's act had worn off and we wanted him gone.
So surely now, as Favre packs it in again and voters decide just how much less they like him than they did in his heyday (don't jilt Minnesota), his legacy is tarnished. Right? Well, here's how SportsNation ranks the top five quarterbacks of all time after yesterday's news.
1.
Joe Montana
2.
Brett Favre
3.
Dan Marino
4.
John Elway
5.
Tom Brady
Nice trick, Brett. But don't test your luck this time. At some point, we're going to start ranking Bob Griese ahead of you simply out of spite.
"

Just more proof that Brett has always been about Brett. On a side note, does anyone else see this guy doing increasingly desperate acts as the years go by to keep his name in the headlines and himself in the public eye as if to say 'don't forget about me!' ?

"

-- babylon_paladin
"

Hey, Favre spent years trying to stick it to the Vikings. Old habits die hard!

"

-- Rod_in_Atlanta
"

I personally believe he has a verbal deal in place with Zygi Wilf, Brad Childress, and Darrel Bevel to walk into camp the week before the last preseason game, play perhaps a quarter or two, and become the starter. By his own admission he 'knows' the offense and by his actions has demonstrated that he feels a certain level of privilege because of his longevity and status in the NFL. I will laugh when it happens and the three principles above welcome him back with open arms.

"

-- BHagerty