We're going to go out on a limb here and say that Shaquille O'Neal has mastered the art of being a celebrity.
Oh, sure, there are people out there more famous than he is. We'd venture to say that he's not even the most famous basketball player out there. He is, however, seemingly unencumbered by the weights of fame that routinely drag other athletes and celebrities down. Shaq goes through life like a kind of wandering troubadour, concerned only with being interesting. If he's in Washington, he'll
show up at the White House
as a kind of social experiment. If he's in a car, he'll
put on some kind of wig
. He'll
challenge
David Beckham
more
than
once
. If you're part of the Twitter-verse, Shaq will
hang out
with you. Even Shaq's ex-teammates like him (with a few possible
exceptions
). Steve Nash recently told the AP that Shaq will be a
great fit
in Cleveland. Meanwhile, Shaq is a bit busy fake-choking a gigantic man in spandex. Which is really no surprise.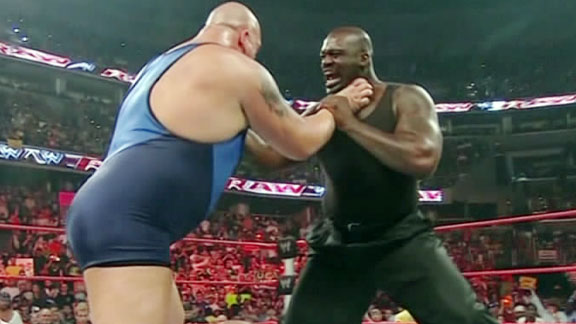 "

I guess if you can't make a hook shot anymore, might as well try to infiltrate the White House...

"

-- bcohn17
"

Steve Nash probably thinks Shaq is a good fit anywhere just as long it's not next to him in PHX! Good Luck LBJ!

"

-- mischvs1
"

Matter of fact .. with Shaq's power .. Shaq will be able to CLEAR .. the lane out better then any active Center in the NBA right now .. IF .. Lebron wants to drive to the lane more

"

-- Lenwen76