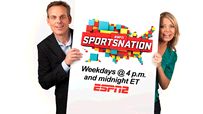 Michelle Beadle and Colin Cowherd haven't been in a fight . . . yet . . . but they'll talk about the benefits and drawbacks of such activity on "SportsNation" TV.
Argue the hot topics, vote on the biggest stories and chat during the show, on ESPN2 at 4 p.m. and midnight ET.
Note: Broadcast voting results as of afternoon ET.
What do you think of fights at NFL training camps?
In virtually every camp, two players will eventually end up hitting more than just pads. Is it an indication of needed passion or the decay of team chemistry?
Should the Green Bay Packers sign Michael Vick?
When asked about possibly signing Michael Vick, Packers GM Ted Thompson said the team was considering all options. Should Green Bay sign the quarterback?
Should Tom Brady play most of the preseason?
Which is more important, playing it safe with one of the league's best players coming back from injury or getting reps in preparation for the season?
Which Shaq/Shack do you love more?
RadioShack wants to be called "The Shack." While we ponder the impact of such a change, we have to ask if this Shack is better than that Shaq?
Is having 35,000 standing room only tickets a good idea?
The Dallas Cowboys have a lot of room to stand. And apparently a big desire to break the "100,000 butts in the seats" plateau in their new billion dollar stadium.
What is "SportsNation" TV, and how do you make your voice heard? Read about the new ESPN show that features fan opinions with calls, tweets, polls, rankers and more.