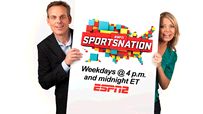 Michelle Beadle and Colin Cowherd have more than enough weapons to succeed, which they will flaunt on today's edition of "SportsNation" TV.
Argue the hot topics, vote on the biggest stories and chat during the show, on ESPN2 at 4 p.m. and midnight ET.
Note: Broadcast voting results as of afternoon ET.
Will Peyton Manning retire as a Colt?
His little brother just signed a massive contract, so does that mean Peyton's next contract will be too expensive for the Colts to match?
Which team needs Red Sox-Yankees series more?
The Yankees are 0-8 against the Red Sox this season, but does that necessarily mean they need the series more than their rivals?
Should Michael Crabtree sit out the year?
Michael Crabtree is generating headlines, thanks to one of his "advisers" saying he is prepared to sit out the season. Good idea or bad idea?
Does Eli Manning have enough weapons to succeed?
The New York Giants have 97 million reasons to expect Eli Manning to succeed. But does he have the receiving corp to do it?
Which is the better way to celebrate?
Pies to the face are so cliche. Why not cake? We tackle the tough questions here in SportsNation, so give this one some real thought before you vote.
What is "SportsNation" TV, and how do you make your voice heard? Read about the new ESPN show that features fan opinions with calls, tweets, polls, rankers and more.