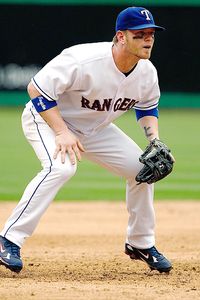 There is, of course, baseball being played outside the Bronx this weekend. For instance, the Pawtucket Red Sox square off against the Norfolk Tides, and the Scranton/Wilkes-Barre Yankees -- fresh off taking three of four from Pawtucket -- face the Lehigh Valley Ironpigs. And people say there are no good nicknames anymore.
Sorry, we got a little caught up in the Sox-Yankees quagmire for a second. What we meant is that there are plenty of perfectly compelling MLB series taking place this weekend without the participation of either Terry Francona or Joe Girardi. Not surprisingly, exactly which of those series matters most depends on where you live, but the Rangers and Angels hold a slight edge on the rest of the field nationwide.
Almost a month ago, SportsNation tabbed the Rangers as the second-best bet to overtake a division leader, behind only those inescapable Yankees. And just this week, the team from Texas ranked No. 7 overall in SportsNation's MLB Power Rankings. But at 4.5 games behind the Angels in the AL West, a bad weekend in Anaheim would be costly.
"

No one else I'd rather have start off the series than old Feldy. Going to be a lot of frustration coming from the Angels' bats tonight as about half of them will end up in two pieces on the field.

"

-- ohcomeon21
"

I'm not one to predict wins and such, but I have an eerily good feeling about this series for the Angels. Though it could just be my homer-ness talking.

"

-- slyintine
"

The Twins and White Sox didn't help their cause yesterday, while we ripped off a win. Hopefully we can keep this roll going against Minny this weekend, the top of the pitching order rolls over again tomorrow too. Nice!

"

-- KaneBowman