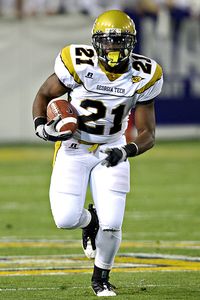 Steve Spurrier does have a vote as a former winner, so anything is possible, but this really doesn't seem like the year to try and win the Heisman Trophy if you're not a quarterback at Florida, Oklahoma or Texas.
But in the spirit of little guys everywhere (although at better than 220 pounds, he's gigantic compared to Dennis Kucinich), let's launch Jonathan Dwyer's campaign for college football's top individual honor right here and now.
In a sea of spread-offense copycats in college football, Dwyer plays in a quirky offense at Georgia Tech that's worth pausing the clicker to watch. He rushed for nearly 1,400 yards on just 200 carries last season, including nearly 600 yards in his last four regular season games -- against Florida State, North Carolina, Miami and Georgia.
And if that's not enough, while it's unconfirmed, we hear he also has a secret plan for cutting global carbon emissions and regulating Wall Street. Vote Dwyer in 2009!
A Florida fan (he balances that karma by rooting for the Orioles), SportsNation blogger RedskinJohnnie wonders if another Heisman for Tim Tebow would raise as many questions as it answers.
"

I'm not a coach or a player, I'm just a fan of college football and I'm not even a SEC fan who seem to know all there is about real college football so I definitely have no expertise on the matter but if I were to start a college football team with current and past players over the last 7 years I would without a doubt have jahvid best as my starting tailback. He is no pun intended the best tailback I've seen play in the last 7 years.

"

-- johnnyringo2006
"

i say Spiller is more valuable to his team [than Dwyer]. Dwyer could go out, and GT still be alright because of the triple option scheme... you could throw any 3 star RB in that system and they will be okay... (navy)...And Spiller can take it the distance, either by running, catching, or returning

"

-- god1aj2