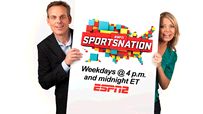 Michelle Beadle and Colin Cowherd haven't injured themselves on "SportsNation" TV (so far), but check the injury reports as kickoff nears for updates.
Argue the hot topics, vote on the biggest stories and chat during the show, on ESPN2 at 4 p.m. and midnight ET.
Note: Broadcast voting results as of afternoon ET.

Should the Panthers be worried about Steve Smith's injury?
Smith, who injured his right shoulder, said Tuesday that he's hopeful he'll be ready for the regular-season opener against the Eagles.

Should Tony Romo date a celebrity or teacher?
Jessica Simpson is history. Whom should the Cowboys quarterback take on vacation and to celebrity golf tournaments now?

Is Mike Singletary overreacting in his punishment?
Quarterback Alex Smith had to go sit on a hill and watch from afar after throwing an interception in 49ers practice.

How much do you value keeping your toenails intact?
Pro Bowl WR Larry Fitzgerald runs so much he loses his toenails every year. Now he's got special shoes with holes cut out near the big toe.
Will the IOC make golf an Olympic event?
Tiger Woods said he would play in the Olympics should golf become an event. Will his endorsement get the sport added?
Is the expected PR backlash from signing Michael Vick overstated?
Tony Dungy says several teams are interested in the ex-Falcons quarterback. So much for being a pariah.
What is "SportsNation" TV, and how do you make your voice heard? Read about the new ESPN show that features fan opinions with calls, tweets, polls, rankers and more.