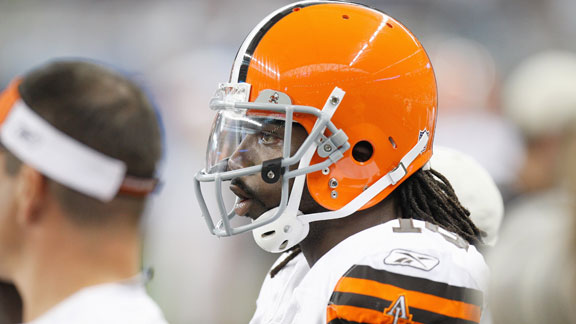 Few topics have touched off a SportsNation debate quite as heated as that which followed Donte' Stallworth's plea agreement in the case surrounding the death of Mario Reyes. Many felt Stallworth, who was sentenced to 30 days in jail after he pled guilty to DUI manslaughter, got off far too lightly. Others felt Stallworth's immediate acceptance of responsibility and the circumstances of the case justified the ruling. Most had some opinion.
What SportsNation has long been relatively unified on is the idea that we wouldn't see Stallworth on an NFL field again for a long time. Thursday, the NFL codified that perception by suspending Stallworth without pay for the entire 2009 season.
The initial reaction from voters is that Roger Goodell got it right with this suspension, which they
recommended last week
. And in general, SportsNation supports Goodell's disciplinary bent, with a majority approving of both how he handled the entire
Michael Vick saga
and continues to handle
league discipline
in general.
"

The government gives him 30 days in jail, the NFL gives him a YEAR off with NO pay. That makes a lot of sense. 2 big thumbs up to Roger Goodell... Not!

"

-- Cosmokid52
"

Wow, I'm shocked by the penalty the NFL has imposed on Stallworth! Yes, he was guilty and served a petite sentence, but I was expecting a lifetime ban! But then again, the world is going to the dogs anyway!

"

-- Angelobill