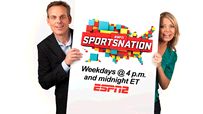 Colin Cowherd and Michelle Beadle plan to duck any objects thrown at them during "SportsNation" TV.
Argue the hot topics, vote on the biggest stories and chat during the show on ESPN2 at 4 p.m. and midnight ET.
Note: Broadcast voting results as of afternoon ET.

Would you turn in a fellow fan?
The Cubs and Shane Victorino are going after the fan who tossed beer on the outfielder while he was trying to make a catch.
Did Azteca Stadium contribute to Mexico's win?
The raucous crowd sure enjoyed the 2-1 win. The U.S. has never won there. At this point, it's no longer a talent gap. Maybe it's the fans.
Do you love having a fast QB on your team?
Terrelle Pryor and other mobile quarterbacks provide an advantage that teams such as West Virginia and Texas have used quite well in recent years.

Who's more likely to catch the Madden Curse?
Is Troy Polamalu or Larry Fitzgerald destined to spend part of the season on the sidelines, or is all this curse talk a bunch of nonsense?
Which is the better comeback this season?
Will video-game Michael Vick or (as yet unsigned) real-life Michael Vick be more explosive and exciting on the field this season?
What is "SportsNation" TV, and how do you make your voice heard? Read about the new ESPN show that features fan opinions with calls, tweets, polls, rankers and more.