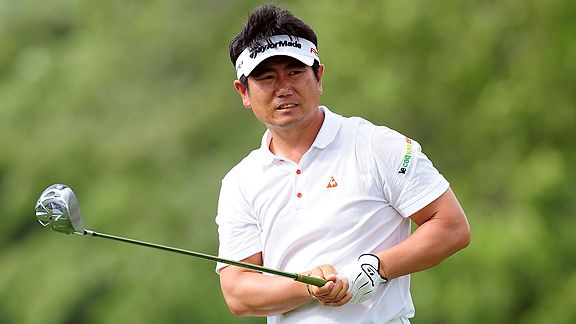 Tiger Woods doesn't choke. He doesn't lose majors after leading for 54 holes. And he certainly doesn't go whole seasons without a major (at least for the past four years). Yet today, everything changed.
Tiger Woods couldn't get it done, and remarkably, the No. 110-ranked golfer in the world, Y.E. Yang, could. With a stunning 18th-hole performance, Yang remained calm and fearless (as if to say, "Tiger Who?"), and took the title that practically had Woods' name engraved. Only 9 percent of SportsNation predicted this, and we're sure about 0 percent thought the winner would be Yang.
But will this be Yang's sole major win? Or will he win the big one again? Vote below.
"

How awesome is this for Yang. Dude NEVER thought he would be getting handed this trophy. Awesome...

"

-- rytgersjaffoII
"

Tiger didn't make putts all week so his fate was sealed by his own doing. His game is still their but the field is sick of him winning and stood up to him this year. Will he come back next year is the question right now.

"

-- ICEMAN4342
"

TIGER WOODS IS NOT OVERRATED....Please. .. Yang did what Tiger usually does in a major& make you pay for not making shots. Today Yang did just that... but to say Tiger is overrated is mindless... This was awesome for golf and honestly Ill probably follow Golf some more even if Tiger isn't in Contention.

"

-- cinciredsforlife08
"

This is the first time in a while a guy challenged Tiger to make shots on a sunday. Yang gave nothing back to field and made big shot after big shot. He was quite simply better than Tiger this weekend and deserved the big W.

"

-- paulnatlanta