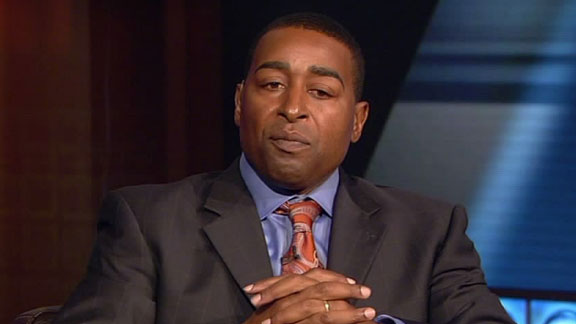 An extended stay at training camp is apparently a part of football life that Brett Favre used to be able to tolerate, perhaps even appreciate, but which he now finds endlessly insufferable.
Brett, we know the feeling, big guy.
Favre is back, and yes, SportsNation is surprised. Silly us for believing he would actually stay retired when he said all of three weeks ago that he would stay retired. Just to recap what SportsNation had to say after what most thought was a final farewell:
Fool us once, shame on you. Fool us twice, shame on us. Fool us continuously for several years, and we really start to loathe you. Although a certain portion of SportsNation never cared for Favre, at the time of his first retirement, 81 percent of voters said they rooted for him. Less than a year and a half later, essentially half that number now says "used to be a fan" is the best way to describe how they feel about him.
So good luck, Brett; most of us won't be rooting for you.
"

Playing the part of Phil Connors is Brett Favre. Playing the part of Punxsutawney Phil would be the Vikings......the rest of us are just waiting for something, anything different to happen so we're no longer trapped within the confines of Feb 2nd.........forever.

"

-- BlondiesCowboys
"

Green bay could have kept him you idiots. He is not dissing anyone, hey was dissed by the pack. What team doesn't offer a chance to compete for the starting job to their all time leading quarterback who holds almost all of the meaningful passing records in the NFL? Honestly. If Green Bay would have done right by Favre he wouldn't be in this position. Packer fans are a bunch of whiners

"

-- speterson444
"

Seems like a big story now but at the end of the season it will be an afterthought when the Vikes don't even make it past the first round of the playoffs. Favre is a tool. Favre knew he didn't have it in him to make it through training camp so he just decided to skip it. I will be rooting for the Packers at least two times this season.

"

-- kevmania69