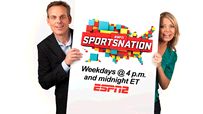 Michelle Beadle and Colin Cowherd plead guilty to wanting to hear what fans have to say on "SportsNation" TV.
Argue the hot topics, vote on the biggest stories and chat during the show on ESPN2 at 4 p.m. and midnight ET.
Note: Broadcast voting results as of this afternoon (ET).
Will the Cowboys' new stadium be quiet?
Colin thinks that corporate crowds don't make as much noise. The new, expensive, amenity-laden, luxury-box-packed stadium could be less rowdy.
Do you expect to live longer than 78 years?
Bobby Bowden has already surpassed the U.S. life expectancy (he's 79) and plans to keep coaching. Do you think you'll ever catch him?
Could you catch a bullet pass from Brett Favre?
He warmed up for Vikings camp by working out with high school kids, and you probably have better hands than they do. Could you catch his hard throws?
Would you stock Michael Vick jerseys?
Dick's Sporting Goods won't carry Vick jerseys. Would you take a stand or cater to the market and sell No. 7 Eagles jerseys?

If you were an AD, would you hire John Calipari?
The Memphis Tigers reportedly will vacate 38 victories from their Final Four season of 2007-08 under former coach Calipari because of NCAA violations.
What is "SportsNation" TV, and how do you make your voice heard? Read about the new ESPN show that features fan opinions with calls, tweets, polls, rankers and more.