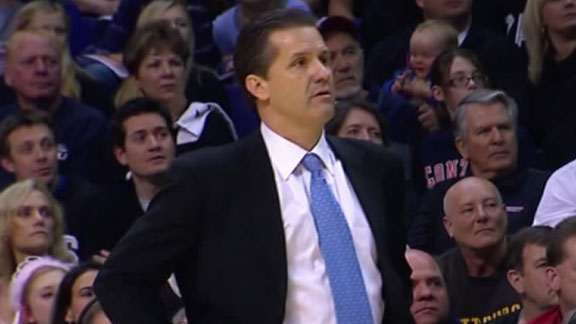 Recruits had no difficulty following John Calipari to his new digs in Kentucky. NCAA sanctions? For the second time in Calipari's coaching career, those stayed behind.
Officially, Memphis no longer has the 38 wins or the Final Four appearance we all remember them accumulating during the 2007-08 season; they were vacated as a result of infractions involving Derrick Rose. For its part, Memphis is appealing the NCAA's decision, which also includes three years' probation. For their part, voters in Kentucky are some of the only fans thinking more about the incoming recruiting class in Lexington than Calipari's history.
So Kentucky thrives while Memphis suffers. It seems unfair to punish programs for things coaches did at previous stops, but SportsNation thinks it's almost as unfair for the coaches to escape punishment. At the same time, it's a lot easier to talk morals when there isn't a championship on the line. Consider that 36 percent of voters, no small minority, wouldn't lose any sleep if their favorite team won a championship under suspicious circumstances.
"

Kentucky fans, hold up your signs at your games next season: "The 'W' you are about to witness will be vacated by the NCAA at a later date...."

"

-- josephbbl38
"

Why are the coaches responsible for these infraction held responsible. If they move schools before their infraction are found out about, they escape without any penalty. Either the coach themselves should be hit in the pocket book or the new school that has hired them should be hit if they decide to keep the person

"

-- Dielman67
"

well reguardless the 2008 memphis team was one of the most exiting teams this sport has seen in a long time

"

-- soul_sonic_force