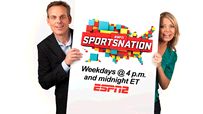 Michelle Beadle and Colin Cowherd plan to bounce ideas and your opinions off the low-hanging "SportsNation" TV scoreboard.
Argue the hot topics and vote on the biggest stories. The show airs on ESPN2 at 4 p.m. and midnight ET.
Note: Broadcast voting results as of this afternoon (ET).

Whose pictures are you more likely to search for on the Web?
Are you more likely to be looking for online photos and videos of actress Jessica Biel or quarterback Tom Brady?
Which quarterback would you rather have?
The Chargers' QB has a six-year extension reportedly worth $92 million, but he doesn't have a Super Bowl ring like Eli Manning.
Do Mark Sanchez's good looks help make him a better QB?
The Jets' rookie signal-caller has already posed in bathing suits and shorts for GQ, and winning could only burnish his media-friendly image.

Which running back would you pick No. 1 in a fantasy draft?
Vikings RB Adrian Peterson is a popular choice, but ESPN fantasy guru Matthew Berry argues that Michael Turner will have a better year.

What do you think of Chiefs coach Todd Haley?
When the first-year head coach said that nobody had made the K.C. roster, yet, was that a smart motivational ploy or a stupid stunt?
What is "SportsNation" TV, and how do you make your voice heard? Read about the new ESPN show that features fan opinions with calls, tweets, polls, rankers and more.