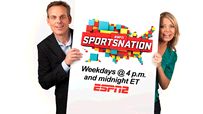 Michelle Beadle and Colin Cowherd aren't wearing face paint for "SportsNation" TV. It's called makeup in the world of television.
Argue the hot topics of the day and vote on the biggest stories from the world of sports. The show airs on ESPNEWS at 4 p.m. and ESPN2 at midnight ET.
Note: Broadcast voting results as of this afternoon (ET).

Which gives you more of a competitive advantage in sports?
Lost in the fog of PED stories is another source of supernatural athletic prowess: Being a werewolf. Coming soon to an NBA roster near you.
What do you think of Boise State trying to organize fans?
The Broncos want their fans to sit in alternating blue, white and orange sections. Is this another gimmick like the blue turf or a true expression of fandom?
Would you ever forgive someone who threw a cup of beer at you?
Who hasn't been to a party where a little beer got thrown? So does it make a difference if it happens in the field of play or amongst your "closest" friends?
Would the addition of Brandon Marshall make the Jets a playoff lock?
N.Y. would like a receiving threat for QB Mark Sanchez. Of course, that's only a rumor because actual contact between the team and wide receiver would be tampering.
Which quarterback would you rather have on your fantasy team?
Packers QB Aaron Rodgers threw for 4,038 yards and 28 TDs last season. Cowboys QB Tony Romo had 3,448 yards and 26 TDs.
What is "SportsNation" TV, and how do you make your voice heard? Read about the new ESPN show that features fan opinions with calls, tweets, polls, rankers and more.