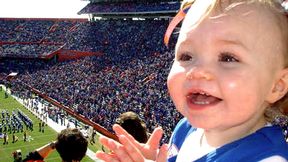 College football is back, and we feel like kids in the stands at The Swamp.
Defending champ Florida is the favorite to win the BCS title again among fan bloggers on ESPN.com. They also pick Colt McCoy for the Heisman trophy.
To kick off the season, we've rounded up some of your predictions on the key games and issues. Each week we'll feature the best college football blogs and photos (thanks gatrstacked for our Gator fan picture this week) posted in the profiles.
Click through this week's posts below and enjoy the games.
Nevada at No. 23 Notre Dame: Does this ever really end? It seems every year we are left wondering how ND ended up with their absurdly high preseason ranking. ... Does anyone remember San Diego State last season? This is my upset special. -- pettyofficerkeller2
No. 5 Alabama at No. 7 Virginia Tech: This will probably be the best game of the year other than the national championship. There is no more quarterback controversey, which means this is Tyrod Taylor's year to lead this team to an ACC title and a BCS bowl game. -- tjroundup
No. 20 BYU at No. 3 Oklahoma: BYU has hopes of crashing the BCS party. One way to make a statement would be to upset the nation's third-ranked team led by the reigning Heisman Trophy winner. Still unsure of their offensive line starters, the Cougars face a monster test in OU's defense. -- Sportsguru6
Week 1: utesfan2 | cardon032 | Sportsguru6tjroundup | pettyofficerkeller2 | dfpsports
Bowl predictions: Chris72970 | Donovant22 | bsu415 | Slaton_20 | ndgunner22 | orionben666 | RamblinWreck | stupid546 | Urkalboy25 | tjroundup | mps88 | thebigvt757 | DaBeezfanofdayanks | Schnoppys 94
Heisman: ndgunner22 | Monkeyduck2008 | phillyfan0091 | earn88hardt | yourqueen2b

ACC
:
jlrceltics (Eagles)
|
craignolez (Seminoles)
Big East
:
BIGALHEREE (Orange)
|
rbhermo (Scarlet Knights)
Big 12
:
Ldavies1984
|
Caunotaucarius (Sooners)
|
The Zou Crew 21 (Tigers)
Big Ten
:
earn88hardt
|
nunyabiz81
|
andrew-stalnaker (Buckeyes)
|
CuckFyTheCyclone (Hawkeyes)
|
nunyabiz81 (Wolverines)
Other
:
Chris72970
|
pigtailedtigerpiccolo
|
dirtydave998 (Irish)
|
ndgunner22 (Irish)
|
gosox342418 (Irish)
|
RylandFlynn
|
Clifton9589
Pac-10
:
Gollfprodude
SEC
:
J-Mel68
|
little eddie58
|
patrickjewing (Bulldogs)