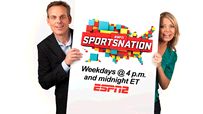 While you've been grilling and enjoying the last, lazy day of summer, Michelle Beadle and Colin Cowherd have been cooking up another day of "SportsNation" TV.
Argue the hot topics of the day and vote on the biggest stories from the world of sports. The show airs on ESPNEWS at 4 p.m. and ESPN2 at midnight ET.
Note: Broadcast voting results as of this afternoon (ET).
Would you put your unconditional trust in Bill Belichick?
New England continues to make surprise moves, the latest being the trade of Richard Seymour to the Raiders. Pats fans are just along for the ride.

Did Sam Bradford make the right decision coming back to college?
The defending Heisman champion is out for at least a few weeks with a shoulder injury suffered in Oklahoma's loss to BYU.
Which Michael Jordan feat would you rather witness in person?
Would you rather have been in the building and seen MJ hit a game-winning shot or seen him hit one of his gravity-defying dunk-contest slams?

Is Jimmy Clausen a legitimate Heisman hopeful?
The Notre Dame quarterback has a 158.3 rating after throwing for 315 yards and four touchdown passes in Week 1 against Nevada.
Is BYU a BCS championship contender?
The Cougars surprised the nation by knocking off the Sooners 14-13. And they certainly grabbed plenty of attention for the Mountain West Conference.
What is "SportsNation" TV, and how do you make your voice heard? Read about the new ESPN show that features fan opinions with calls, tweets, polls, rankers and more.