September 23, 2009
Sep
23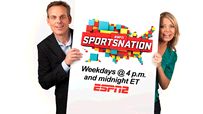 Michelle Beadle and Colin Cowherd tweet only when they're in the "SportsNation" TV starting lineup.
Argue the hot topics of the day and vote on the biggest stories from the world of sports. The show airs on ESPN2 at 4 p.m. and midnight ET.
Note: Broadcast voting results as of this afternoon (ET).
Which state is the king of college football?
Florida has the top-ranked college football team. Texas is No. 2. The California Golden Bears lead the Pac-10 charge at No. 6.
Which team will win Sunday?
The Redskins have trouble finding the end zone and the "off" button for social media. The Lions' last win came in the leather-helmet era.
How much will Michael Vick contribute Sunday?
Andy Reid is hedging about who will be the No. 2 quarterback. Eagles fans are just hoping for a better showing, regardless of whether Vick plays.

Which is a worse way to be tackled?
Is it worse when a defender grabs a facemask to tackle a ball carrier or when a defender grabs the ball carrier's hair to pull him down?
Do New York's fans and media have unrealistic expectations?
The Yankees clinched a playoff spot Tuesday night, but the papers the next day talked about Joe Girardi's future instead of taking a day to celebrate.
What is "SportsNation" TV, and how do you make your voice heard? Read about the new ESPN show that features fan opinions with calls, tweets, polls, rankers and more.