September 24, 2009
Sep
24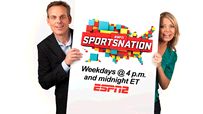 Michelle Beadle and Colin Cowherd tee off for a $10 million paycheck on "SportsNation" TV.
Argue the hot topics of the day and vote on the biggest stories from the world of sports. The show airs on ESPN2 at 4 p.m. and midnight ET.
Note: Broadcast voting results as of this afternoon (ET).

Should the Nets be on LeBron James' short list?
The King hasn't said anything recently to cause us to doubt his Cleveland loyalties, but the Nets are getting a new Russian billionaire owner.

Would you hire a former great player to coach your team?
Wayne Gretzky is the latest superstar player to fare poorly in management. His record in Phoenix: 143-161-24 with no playoff appearances.
Who has been more impressive this season?
The Cardinals are on the verge of wrapping up the NL Central. Have you been more impressed with Albert Pujols or St. Louis' pitching?

Do you enjoy player trash talk?
Randy Moss and the Jets defense are exchanging off-field barbs. We see the talking, even if we can't hear what the players are saying, almost every game.

Do you like Jay Leno's new show?
Many of the critics have been unkind to the former "Tonight Show" host in his new, earlier time on NBC. What's your take on Leno?
What is "SportsNation" TV, and how do you make your voice heard? Read about the new ESPN show that features fan opinions with calls, tweets, polls, rankers and more.