September 25, 2009
Sep
25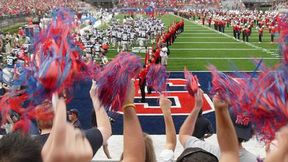 You can't blame fans like OleMIssOurYear for getting their hopes up. It's happened to us all (as has a game like the loss at South Carolina).
Next up for bubble popping? Maybe Miami. Maybe TCU. Maybe Cal. Maybe Houston.
Fans blogged their predictions for these and other games this week. Check out the voices and reactions of fans from across the country.
Week 4 predictions: awesomewes1 | uclabruin094 | Sportsguru6 | nunyabiz81 | spoofybeme2005 | jjreynoldsii | schubaka23 | utfan089 | tjroundup | SeAGoBLin15 | JoeRevs300 | D1Fortune
Rankings: sundevil22820 (No. 1 Florida) | canesinla (No. 1 Florida) | ADEVARTS (No. 1 Florida) | pnthrsfn1012 (No. 1 Florida) | randomdude21 (No. 1 Florida) | Slaton_20 (No. 1 Florida) | CheezusCrust (No. 1 Miami) | jjreynoldsii (No. 1 Alabama) | pigtailedtigerpiccolo (Overrated teams)

"

This year, it's all different. Darryll Clark is a totally different quarterback and Penn State's defense is more ready than ever before. Ricky Stanzi will have do it all by himself. Penn State 25, Iowa 12.

"

-- tjroundup

"

The Frogs are an exceptional red zone team, both offensively and defensively, so you can expect Clemson's rushing TD drought to continue. ... The Frogs' balanced attack and athletic defense will get it done in the second half. TCU 31-20.

"

-- bassmannash

"

This is tough. It's in Blacksburg, but I'm not sold on Tyrod Taylor. Can Miami continue this magical start? I say no. Virginia Tech 20-13.

"

-- spoofybeme2005

"

Texas Tech-Houston: Texas Tech. Why: Houston strikes me as a similar 'BCS-buster' type as teams like BYU, Ball State and East Carolina have been the past couple years.

"

-- nunyabiz81
"

Jahvid Best has at least two TDs and those will be the difference when Cal comes out of Eugene with a win. If Oregon had LeGarrette Blount this would be a closer game. Cal 35, Oregon 21.

"

-- awesomewes1