September 25, 2009
Sep
25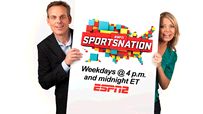 "SportsNation" TV's Michelle Beadle and Colin Cowherd love to talk trash with "SportsCenter" anchors when they cross paths in the cafeteria.
Argue the hot topics of the day and vote on the biggest stories from the world of sports. The show airs on ESPN2 at 5 p.m. and midnight ET.
Note: Broadcast voting results as of this afternoon (ET).
Does the Yanks-Sox series matter this weekend?
The Yankees have wrapped up a postseason berth, and the Red Sox lead the wild-card race by eight games. Is anything more than pride at stake here?
What do you think of Michael Vick's expectations?
Vick said that he had expected to join an NFL team as a starting quarterback when he was released from prison. Instead, he's a backup for the Eagles.
If you had to choose, would you say boxing is dead or alive?
MMA has made great inroads with fight fans. And yet, HBO sold 1 million pay-per-views for the Floyd Mayweather Jr. vs. Juan Manuel Marquez bout.
Are complaining Cowboys fans party poopers?
The Cowboys, who sold about 30,000 $29 party passes for 15,000 spaces last week may limit the standing-room-only ticket sales in the future.

What do you take away from South Carolina upsetting No. 4 Mississippi?
Were the Rebels overrated, or are the unranked teams in the Southeastern Conference underrated and underappreciated nationally?
What is "SportsNation" TV, and how do you make your voice heard? Read about the new ESPN show that features fan opinions with calls, tweets, polls, rankers and more.