September 28, 2009
Sep
28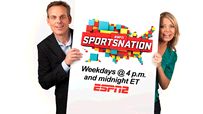 Michelle Beadle and Colin Cowherd can clinch the division title today on "SportsNation" TV.
Argue the hot topics of the day and vote on the biggest stories from the world of sports. The show airs on ESPN2 at 4 p.m. and midnight ET.
Note: Broadcast voting results as of this afternoon (ET).
Who is under more pressure to win tonight?
Tony Romo made some mistakes in the Cowboys' loss to the Giants. Jake Delhomme doesn't have a win this season.
Did you expect Brett Favre to pull out the win for the Vikings yesterday?
The Vikings trailed by 4 when they got the ball back with 1:29 to play. 1:27 and 80 yards later, Favre's TD pass to Greg Lewis won the game.
Which New York football team put on a more impressive performance?
Both are 3-0. The Giants shut out the Bucs. The Jets took the lead, gave up 17 unanswered points and then retook the lead.
Was it reasonable for Tim Tebow to be on the field with a 31-7 lead?
The Gators had the game in hand when their star quarterback suffered a concussion that caused him to spend the night in the hospital.
What did you think of the questions asked of T.O. after the Bills' loss?
Owens' response for a number of questions: "I'm just going with the plays that are called." Read a transcript of the news conference.
What is "SportsNation" TV, and how do you make your voice heard? Read about the new ESPN show that features fan opinions with calls, tweets, polls, rankers and more.