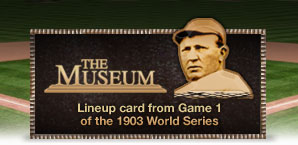 Baseball's postseason history is chock-full of legendary performances, mysterious happenings, amazing plays and epic failures. Now, for the first time, fans can vote on the players, coaches, teams and moments that have stood out the most over countless Octobers as part of ESPN.com's Hall of Fall.
This was our closest vote yet, with all five nominees within six percentage points of one another. In the end, however, fans were swayed by the pull of history, giving the lineup card from the first-ever World Series game the inaugural spot in the Hall of Fall's Museum. Less than sixty votes separated the card from Babe Ruth's 1915 Red Sox jersey. As for the bottom three, support was strongest amongst regions that had strong emotional ties to each artifact. California went strong for Willie Mays' glove from the 1954 World Series, New York was all for Reggie Jackson's bat from 1977, and Massachusetts favored Curt Schilling's 2004 bloody sock.
Make sure to check back Friday to vote on the greatest postseason goats of all time in the Hall of Fall's Barn!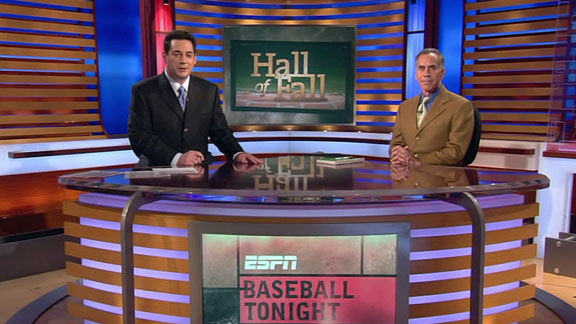 Lineup card from Game 1 of the 1903 World Series (WINNER): How cool would this look framed in your cubicle? For the record, the first World Series game was played at Boston's Huntington Avenue Baseball Grounds before 16,242 fans. The game featured a Ginger, a Kitty, a Patsy, a Chick and a Candy. No wonder those old-timers were so tough. Pittsburgh won 7-3, although Boston took the series.


Babe Ruth's Red Sox jersey from the 1915 World Series: Babe's pinstripes are famous, but we'd like his Red Sox uniform from his first World Series. Ruth appeared just once in the series, as a pinch hitter in the ninth inning in Game 1. He grounded out to first base against Pete Alexander in a 3-1 Phillies victory.
Willie Mays' glove from the 1954 World Series: Mays has said it wasn't the greatest catch he ever made. We'll take the glove anyway.
Reggie Jackson's bat from the 1977 World Series: We need something from the original Mr. October, right? Game 6: Three swings, three different pitchers, three home runs. The hurlers? Burt Hooton, Elias Sosa and Charlie Hough.
Curt Schilling's bloody sock from the 2004 ALCS Game 6: And, no, it's not ketchup or taco sauce.