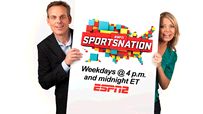 Michelle Beadle and Colin Cowherd promise not to retire from "SportsNation" TV only to return on a rival network.
Argue the hot topics of the day and vote on the biggest stories from the world of sports. The show airs on ESPN2 at 5 p.m. and midnight ET.
Note: Broadcast voting results as of this afternoon (ET).
If you were a Packers fan, how would you feel about Brett Favre?
Numerous fans have voiced their internal conflict about one of the franchise's all-time greats. Now he returns with their hated rival. Is there middle ground?
Are NFL quarterbacks overprotected?
"[Tom] Brady is good enough to make his own plays," linebacker Ray Lewis said after the Ravens were penalized for roughing the passer on two Pats' TD drives.

Would you give up a portion of your salary to hire an awesome underling?
Saints coach Sean Payton reportedly gave up $250,000 of his salary so the team could sign defensive coordinator Gregg Williams.
Which is the best 4-0 team in the NFL?
The Broncos have allowed 26 points. Colts QB Peyton Manning has 1,336 yards passing. Giants WR Steve Smith has 411 yards receiving. And who can stop the Saints?
What is "SportsNation" TV, and how do you make your voice heard? Read about the new ESPN show that features fan opinions with calls, tweets, polls, rankers and more.