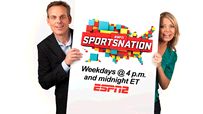 Michelle Beadle and Colin Cowherd plan to take "SportsNation" TV from a dome to an open-air stadium without public financing.
Argue the hot topics of the day and vote on the biggest stories from the world of sports. The show airs on ESPN2 at 4 p.m. and midnight ET.
Note: Broadcast voting results as of this afternoon (ET).
If you're an LSU fan, do you want to play Florida at full strength?
It's still not clear whether Tim Tebow will play Saturday. Would a Tigers win be worth less if the Florida star quarterback doesn't get on the field?
Do men listen to everything women say?
"When we act like we aren't listening, we really are," Tony Gonzalez told Cosmopolitan magazine. "We hear everything you have said."
Is Brett Favre still a great quarterback?
The Vikings QB threw for three touchdowns and 271 yards. Of course, eight sacks by the defense probably contributed to the Monday night win.

What do you think of Braylon Edwards allegedly hitting another guy?
The NFL is looking into the accusation that Edwards punched promoter Edward Givens, a friend of NBA superstar LeBron James, early Monday morning.

Would new Rams owners be good or bad for fans?
Rush Limbaugh said he is teaming up with St. Louis Blues owner Dave Checketts in a bid to buy the Rams, owners of the NFL's longest current losing streak.
What is "SportsNation" TV, and how do you make your voice heard? Read about the new ESPN show that features fan opinions with calls, tweets, polls, rankers and more.