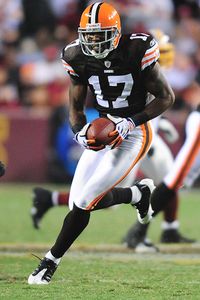 Braylon Edwards allegedly decks one of LeBron James' friends and gets traded to the Jets. Michael Crabtree, with Hammer along for the ride, finally signs with the 49ers a month into the regular season. Likely first-round pick Dez Bryant is ruled ineligible for the rest of the season at Oklahoma State for violating NCAA bylaws.
And all of this in a week when Chad Ochocinco and Terrell Owens have been quiet.
The point? It's not difficult to find wide receivers capable of making headlines. Getting the guys who make plays consistently is a bit more challenging.
Scouts Inc. has put together a list of the best wide receivers in the game, but with Owens fading and Marvin Harrison gone, what are we to make of the current crop of receivers? Have Larry Fitzgerald and Andre Johnson taken over at the top?