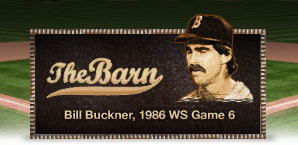 Baseball's postseason history is chock-full of legendary performances, mysterious happenings, amazing plays and epic failures. Now, for the first time, fans can vote on the players, coaches, teams and moments that have stood out the most over countless Octobers as part of ESPN.com's Hall of Fall.
Perhaps unsurprisingly, SportsNation chose Bill Buckner as the biggest postseason goat of all time. Buckner garnered 54 percent of the vote, blowing away the competition; only Babe Ruth's baserunning gaffe in the 1926 World Series even came within 35 percentage points. The only state that didn't find Buckner's error to be worthy of induction was Missouri. It seems that anger toward Don Denkinger still runs raw in St. Louis.
Note: The ESPN research team of Mark Simon, Mike Lynch, Dan Braunstein, Greg Dohmann, Gregg Found, Jeremy Lundblad, Justin Havens, David Schoenfield and Rob Neyer contributed to this project.
Fred Snodgrass drops a fly: Snodgrass was the Bill Buckner of his day. In Game 8 (there had been a tie game), the Giants scored in the top of the 10th to take a 2-1 lead over Boston. Clyde Engle led off for Boston and hit a routine fly to Snodgrass in center field -- which he dropped. Engle reached second and, although Snodgrass made a spectacular catch on the next hitter, the Red Sox scored two runs to win the World Series.
Babe Ruth gets caught stealing: How's this for a way to end Game 7: The Cardinals led the Yankees 3-2, Ruth on first base with two outs after a walk, cleanup hitter Bob Meusel at the plate, Lou Gehrig on deck. Ruth, 11-for-20 stealing bases that season, tries to swipe second. Cardinals catcher Bob O'Farrell throws him out. Series over.




Don Denkinger blows a call: It seemed an innocent start to the ninth inning of Game 6, an infield single by Jorge Orta with his Royals down 1-0. But TV replays showed that Cardinals pitcher Todd Worrell, covering first base, got there before Orta. Denkinger called Orta safe, and the rest of the inning was disastrous for the Cardinals. The Royals won on Dane Iorg's two-run walkoff single and went on to take the Series in Game 7.
Bill Buckner misses a grounder (WINNER): A simple grounder through the first baseman's legs prolonged the misery of Red Sox fans in a game that could have given them their first title since 1918. In fairness to Buckner, the score was tied after Calvin Schiraldi and Bob Stanley failed to hold a 5-3 lead heading into the bottom of the 10th. But as Mookie Wilson's grounder trickled into right field, the winning run scored, and the Red Sox went on to drop Game 7 at Shea Stadium.
Jeremy Giambi doesn't slide: Slide, Jeremy, slide! If you don't remember the details, Derek Jeter's famous flip play to nail Giambi at the plate protected New York's 1-0 lead in the seventh inning of Game 3. The score held, and the Yankees won the next two games against Oakland to take the series in five.