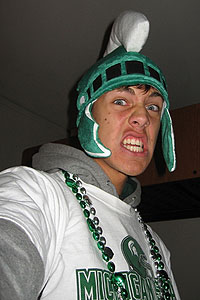 Michigan State fans like detroittim8 are still jumping up and down after their win over in-state rival Michigan last week.
Meanwhile, Florida State fans are hopping for another reason: lack of success.
"I have a ton of respect for Bobby Bowden," writes ryanvcu. "He is one of the greatest coaches ever. However I do feel at the end of the year he should hang it up."
The discussion, spurred in part by rumblings among the university's leadership, includes plenty of people who believe Bowden's legacy speaks for itself.
"The only expert qualified to comment the worthiness of Bobby Bowden's future as coach also has two names that begin with 'B', and the last time I checked he traded his hound's tooth hat for a halo," writes joe.t.elkins.
The Seminoles could quiet critics for at least a week with a win against Georgia Tech.
These are the best college football fan blogs of the week. Click through to comment, disagree and discuss your favorite teams.
Week 6 predictions: JFLASHUBY | TheVols2k7 | cardon032 | bballfever101 | Sportsguru6 | JoeRevs300 | Joey DS | gbirkem2 | dfpsports | TheSwingingFriar | nunyabiz81 | bballfever101
Rankings (with No. 1 team): ADEVARTS (Florida) | pnthrsfn1012 | canesinla (Florida) | fusebox2010 | C.UngureitJr (Alabama) | volsandtitansfans101 (Texas) | CheezusCrust (Iowa)

"

Jimmy Clausen has Heisman numbers so far, and he still has some winning to be done. He plays a pro-style offense.

"

-- I am Ron Burgandy

"

In the end LSU will not be able to keep up with the machine that is Florida. Tebow or no Tebow their running game isn't going anywhere and Brantley will make the throws necessary to win.

"

-- fusebox2010

"

This is the "The One Point Season" that needs to be the wake up call for this coaching staff. I am not optimistic but I hope Bob Stoops can acknowledge the situation and make the coaching style changes needed to fix this issue.

"

-- espnb12s

"

Wisconsin, Auburn: Great job going 5-0. You beat the teams you had to beat even though none of them were very good. The meat of the schedule is now upon you. Are you guys the prince or the ugly frog?

"

-- cardon032