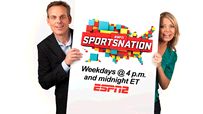 Michelle Beadle and Colin Cowherd are tough enough to do "SportsNation" TV in the snow.
Argue the hot topics of the day and vote on the biggest stories from the world of sports. The show airs on ESPN2 at 4 p.m. and midnight ET.
Note: Broadcast voting results as of this afternoon (ET).
Who has surprised you more so far?
Kyle Orton, starting for a new team, is 5-0 with 7 TD passes to 1 INT. New coach Josh McDaniels upset the Denver apple cart with surprising results.
Which team was more impressive in its LDS sweep?
The Angels outscored the Red Sox 9-1 in their first two games and then used a late-game comeback to sweep. The Yankees needed extra innings in Game 2.

Do the Dallas Cowboys need a head coaching change?
As coach of the Cowboys, Wade Phillips is 25-12, including an improbable overtime victory against the Chiefs on Sunday that has angry fans buzzing.

What should happen to throwback jerseys?
Is it time to return old uniform patterns and colors to retirement, or do you like seeing the variety of a team's history on display?
What is "SportsNation" TV, and how do you make your voice heard? Read about the new ESPN show that features fan opinions with calls, tweets, polls, rankers and more.